Aluminium Alloy Air Operated Double Diaphragm Pump
is a novel volumetric pump that uses compressed air as the power source to distribute air through the reciprocating motion of the air valve and drives the diaphragm to squeeze the conveying medium. The pump integrates the submersible pump, the self-priming pump and the impurity pump. The advantages of conveying machinery such as shielded pumps and mud pumps. This series of products is made of high-quality aluminum alloy and has good physical properties. It can be applied to any acid, alkali and various organic solvents other than molten alkali. The application range is extremely wide. The series pumps have beautiful structure and good physical resistance. Sexual, durable and other characteristics, for a variety of corrosive liquids, with particles, high viscosity, volatile, flammable, explosive, highly toxic liquid, ceramic glaze, pulp, glue, tanker oil recovery, temporary Liquids such as pouring cans can be exhausted, especially to solve the problems of running, running, dripping, leaking and not allowing idling of the vane pump. This series of products can use ordinary clean industrial gas or instrument gas at 0.1 kg. Starting at low pressure, saving more than 30% of gas consumption under normal transportation conditions is a new generation of energy-saving pumps with good market prospects.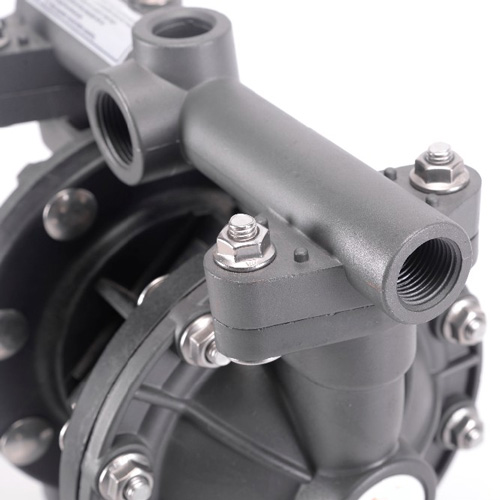 F
eatures
●
The pump will not overheat: the compressed air is used as the power, and it is a process of expansion and heat absorption when exhausting. The temperature of the pneumatic pump is reduced when working, and no harmful gas is discharged.
●
No spark is generated: the
pneumatic diaphragm pump
does not use electric power for power, and prevents static sparks after grounding.
●
It can pass through the liquid containing particles: because it is volumetric and the inlet is a ball valve, it is not easy to be blocked.
●
The shearing force on the material is extremely low: how to suck in when working, so the agitation of the material is small, suitable for the transportation of unstable materials.
●
The flow rate can be adjusted, and a throttle valve can be added at the material outlet to adjust the flow rate.
●
It has the function of self-priming.
●
It can be run empty without danger.
●
You can work diving.
●
The fluids that can be transported are extremely wide, from low viscosity to high viscosity, and viscous from corrosive.
●
There is no complicated control system, no cables, fuses, etc.
●
Small size, light weight and easy to move.
●
It is easy to maintain without lubrication, and it will not pollute the working environment due to dripping.
●
The pump is always efficient and will not be degraded by wear.
●
100% energy utilization, when the outlet is closed, the pump automatically stops, equipment moves, wears, overloads, heat
●
There is no dynamic seal, and maintenance is easy to avoid leakage. There is no dead point when working.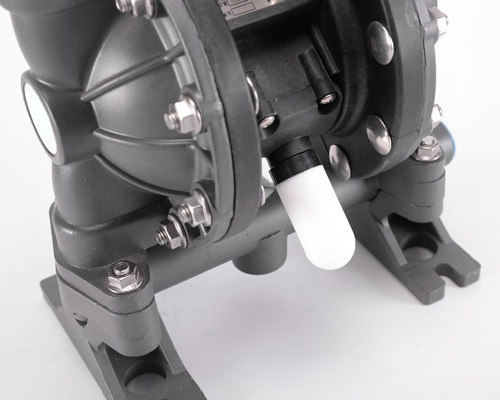 Application
●
Pump peanut butter, kimchi, mashed potatoes, small red sausage, jam apple pulp, chocolate, etc.
●
Pumping paint, gum, and pigment.
●
A
dhesives and glue, all types can be pumped.
●
A
ariety of tiles, porcelain, bricks and pottery glaze.
●
After the oil well is drilled, pump the sediment and grout.
●
Pump various emulsions and fillers.
●
Pumping all kinds of sewage.
●
Use the pump as the tanker, and the barge clears the tank to absorb the sewage.
●
Hops and baking powder slurry, syrup, sugar dense.
●
Pumping water from mines, tunnels, tunnels, ore dressing, and slag. Pumping cement grout and mortar.
●
V
ariety of rubber pulp.
●
Various abrasives, corrosives, petroleum and mud, cleaning grease and general containers.
●
V
ariety of highly toxic, flammable, volatile liquids.
●
Variety of strong acid, strong alkali, strong corrosive liquid.
●
V
ariety of high temperature liquids can withstand 150 ° C.
● As a front stage pressure supply device for various solid liquid separation devices.
Technical parameters
Mode

Max.Suction Lift (dry\wet,m)

Max. particle diameter (mm)

Suction and discharge size (inch)

Air inlet size (inch)

Max. flow rate (L/min)

Max. air consumption (m

3

/min)

YRO-15/20

4 \ 7.6

2.5

1/2 3/4

1/4

57

0.672

YRO-25

4 \ 8

4

1

1/2

157

1.7

YRO-40

5 \ 8

5

1½

1/2

358

3.5

YRO-50

5 \ 8

6

2

1/2

587

4.9

YRO-80

5 \ 8

9.4

3

3/4

1060

9.1
Reference
1, Plastic pneumatic diaphragm pump
2, Stainless Steel pneumatic diaphragm pump