SP self priming trash pump is YANESS latest developed self priming sewage pump for treatment projetct. Compared with ZW self priming sewage pump, SP self priming trash pump with higher suction lift, up to 7.6 meters, and more strong passing capacity (Dia of maximum passing grain for SP-6 is 76mm). There is no doubt, it's "King of Self Priming Sewage Pump" at world pump industry.
Features
● High suction head: Up to 7.6m.
● Strong passing capacity: Maximum passage diameter 76mm.
● Maintenance friendly: Back pull out construction, do not need disassembly to salve comment problems.
● Simple operation: Suction pipe down in the liquid, just only filled with liquid at first time.
Working Condition
● Liquid: 0℃~40℃, density less than 1.2X10³/m³, pH 5~9.
● Solides volume ratio: Less than 2%.
● Dia of passage: Up to 76mm (Pls check the details for each model).
● Situation: Ambient temperature less than 40℃, max altitude 1000m.
● Pump working range: Flow: 10m³/h~750m³/h, Head: 3m~8m, suction head up to 7.6m, power: 1.1kW~90kW.
Application
● Rainwater, river water.
● Urban sewage pumping station: Waterlogging, flood discharge.
● Industrial sewage: Paper ondustry, light mill, food processing industry, chemical plant, mines etc.
● Wine and sugar industry.
Structure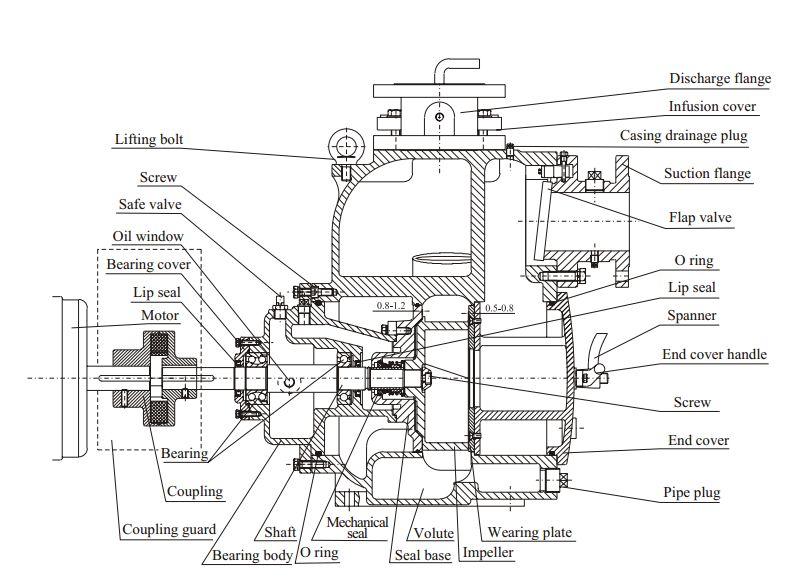 Positioning Pump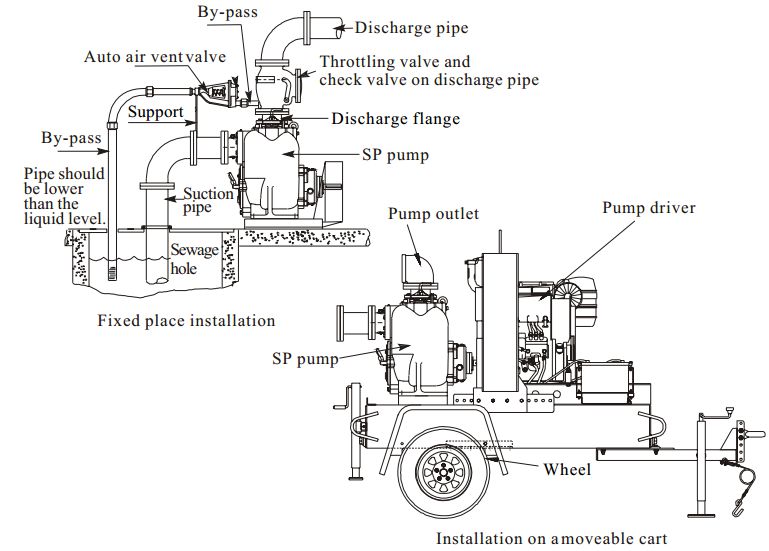 Specification
SP Self Priming Trash pump

1.Inlet/Outlet

2''(50mm), 3''(80mm), 4''(100mm), 6''(150mm), 8''(200mm), 10''(250mm),12''(300mm)

2.Impeller Diameter

158.74mm-457.2mm

3.Rotary Speed

550RPM-2150 RPM

4.Flow Rates

8m3/h-1275m3/h

20GPM-5500GPM

5.Head

6m-63m

6.Horsepower

1HP-125HP

7.N.W

92KG-998KG

8.G.W

114KG-1066KG

9.Solid Passing

20.63mm-76.2mm

10.Material

cast iron, ductile iron, stainless steel, cast steel,aluminum,bronze

11.Diesel Driving

Water cooled or air cooled

12.Method of Connection

Self-priming pumps are available as basic units or may be flex-coupled, V-belt driven or engine mounted.

13.Drive Variation

Cummins, Deutz, Ricardo, Perkins or other diesel engine brand, Electric Motor

14.Skid Mounted on Trailer

2 wheels or 4 wheels Trailer/Trailor

15.Package

Exporting plywood case