Installation Of Magnetic Drive Pump
Installation Of Magnetic Drive Pump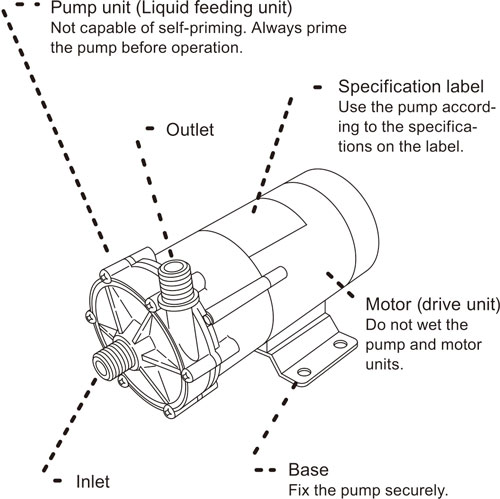 Before Installation

Dropping or subjecting the pump to strong impact, failure may result.
Handle the pump with care.

The pump is not capable of selfpriming. Always prime the pump before operation.
Allowable liquid temperature range is 0-80°C. Non-freezing. Note the range may change with liquid property.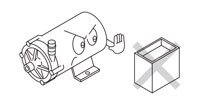 A strong magnet is inside the pump. Do not use the pump with any liquid which contains metals such as iron and nickel.
Observe the maximum ambient humidity of 90%. The motor is not water-/dust-proof. Do not wet the motor, or it may fail.
Banned solutions
• Halogenated hydrocarbons such as trichloroethylene and carbon tetrachloride
• Ether and low-grade ester
• Slurry (Never use slurry, which wears out the pump bearings.)

Do not place dangerous or flmmable goods near the pump for your safety.

An electrical failure of the pump may adversely affect related devices. Purchase and install an earth leakage breaker separately.

Non-condensing. Do not wet the motor.
Do not dismantle/modify the pump without Yaness permission. Yaness are not responsible for any accidents or damage due to modification.
Do not use any damaged pump.
Using a damaged pump may lead to an electric leak or shock.

Do not get the motor wet. The pump is not dust-/water-proof or rust-proof construction.
Risk of fire or electrical shock. Do not scratch, modify, twist or pull the power cable. The cable can also be damaged when it is heated or loaded with a heavy thing. Stop operation and contact us if the power cable is damaged.
Risk of burning. Do not touch the motor. Motor surface temperature rises high during operation.
Installation
Installation location
Select a convenient place for maintenance and inspection.
Observe the allowable room temperature of 0-40°C and ambient humidity of 90%RH.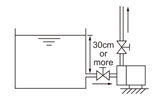 Mounting position
This pump is not capable of selfpriming. Flooded suction application is ideal. The pump should be installed 30cm lower than the suction liquid level, or bearing may be worn soon by entrained air.

Outlet direction
Always direct the outlet upward or entrained air can not be expelled.
Do not mount the pump vertically.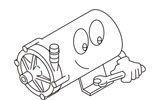 Pump fixation
Secure the pump by fixing the base. Do not install the pump vertically.
Piping

In order to minimize the piping resistance, have piping shortest with the minimum bends. For the prevention of cavitation, have the suction piping bore wide as much as possible.
Use a corrosion-/pressure-resistant vinyl tube, otherwise the suction hose can be crushed by the suction force (especially for hot liquid). A braided tube or Teflon tube is recommended.
Select a suitable tube bore for secure connection.
Install valves on both discharge and suction lines.

• Suction-side valve:
For easy pump removal and maintenance.
• Discharge-side valve:
For adjustment of the flow rate and discharge head