Multistage Pump Power Calculation
multistage pumps are a type of centrifugal pumps that is driven by large-area pistons to form high-pressure gas in small-area pistons. Can be used for compressed air, and other gases, the output air pressure can be adjusted steplessly by driving air pressure. With the rapid development of World's industrial level, the use of multi-stage pumps is becoming more and more widespread. The study of the parameters of the multi-stage pump is very important for the use and research of the product.
Next, the power calculation formula of the multi-stage pump is mainly introduced.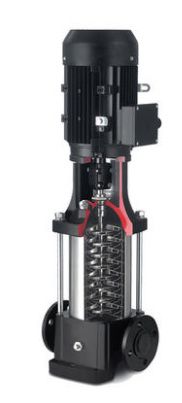 ρ: The density of the liquid delivered by the multi-stage pump (kg/m3);
Y: The gravity of the liquid delivered by the multi-stage pump Y=ρg (N/m3);
g: Acceleration of gravity (m/s) mass flow Qm=ρQ (t/h or kg/s);
The calculation formula of multi-stage pump power is obtained from the above parameters: Pe = ρg QH (W) or Pe = YQH / 1000 (KW)
There are many types of multi-stage pumps, but their working principles are basically the same, and their structures are similar. There are many multi-stage pump series, which are divided into vertical multi-stage pumps and horizontal multi-stage pumps according to their appearance. According to different materials, it is divided into: stainless steel multistage pump, LG multistage pump, DA multistage pump. With the difference in structure and material, the study of its parameters becomes more important. Although the types are different, the basic parameters are the same. For multistage pumps, their power calculation methods are the same. This also simplifies a lot of work and facilitates research.
As a well-known large-scale diversified enterprise integrating R & D, development, production, sales and service, YANESS has always adhered to the tenet of "Survive by quality and develop by quality" to provide customers with quality services !! At the same time, YANESS has always focused on improving its own strength and strict control of product quality. To this end, it not only has the highest domestic pump performance test center, a complete integrated service system, and experienced pump experts. After years of development, the product has won various professional certifications and customer recognition for its superior performance, excellent quality and good service reputation. After the unremitting efforts of the team, YANESS has made great achievements in the domestic pump industry. Such a leader in the water pump industry based on integrity and responsibility is more important than the sky. It has it's unique methods for water pump repair and maintenance.