Can rubber rotary lobe pumps be used instead of long shaft submersible pumps for oily sewage?
Can rubber rotary lobe pumps be used instead of long shaft submersible pumps for oily sewage?
The transportation of oily sewage and oily sludge is a common processing medium in the oil and petrochemical industry transfer stations and tank oil tanks. The composition is relatively complex, with relatively severe corrosion and abrasion. Using a long-shaft submerged pump can properly transfer the medium. Conveyed to the ground, but long-term, the flow is unstable, poor self-priming ability, high cost of shortcomings.
Due to the submerged installation, the corrosion resistance is poor, and the motor and other components are easily damaged. Maintenance needs to be hoisted to the ground. If the maintenance space is limited and the loss of shutdown is involved, the cost of comprehensive use is too high.
The flow is unstable and the self-priming capacity is poor. This station can be named as an oily sewage lift pump according to the application. If the flow rate is not reached, the poor self-priming capacity cannot meet the requirements of the station. Later, the self-priming centrifugal pump was replaced, and the effect was endless.
The rubber rotary lobe pump is a positive displacement pump. Generally, the rubber rotary lobe uses a spiral lobe, which is covered with fluorine rubber, which is resistant to oil, corrosion and abrasion. Due to the small gap between the lobe and the pump casing, the pump has a better Suction capacity.
Self-priming of rubber rotary lobe pumps does not require diversion pumps.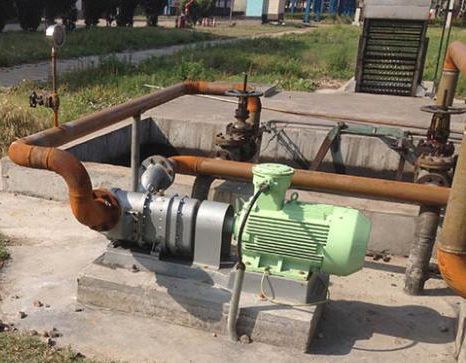 The installation method adopts dry installation, with a small footprint.
Maintenance method adopts online maintenance. The pipeline and motor do not need to be separated from the pump head, just open the pump cover. A single person can complete the replacement in 25 minutes.
The purchase cost of rotary lobe pump is relatively high, but there is no need to replace wearing parts within 2 years, and the purchase price of long-shaft submersible pump is low, but the use effect is not good, there are many failures, troublesome repair steps, and the maintenance cost is too high.
Therefore, under the trend of high-end and intelligent equipment requirements, rubber rotary lobe pumps can be used instead of submerged pumps.