The difference between a lobe pump and a centrifugal pump
The difference between a lobe pump and a centrifugal pump
Lobe pump refers to the pump that changes the working volume through the relative movement between the lobe and the pump casing, and then increases the energy of the liquid. Lobe pump is a rotary positive displacement pump with positive displacement. Its flow rate does not change with the change of back pressure. The main types of lobe pumps are gear pumps, screw pumps, cam pumps, vane pumps, rotary piston pumps, hose pumps, etc.
Centrifugal pump refers to a pump that transports liquid by the centrifugal force generated when the impeller rotates.
Compared with the centrifugal pump, the lobe pump has the following differences: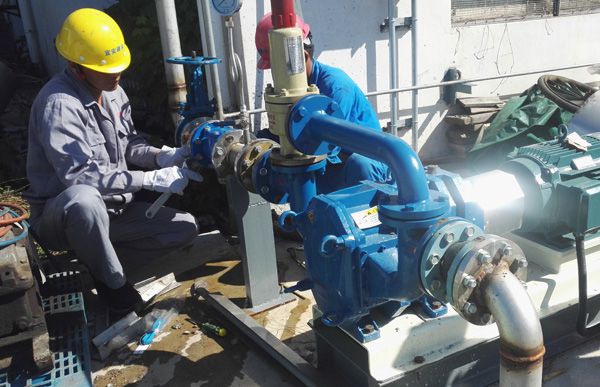 1. Lobe pump has strong self-priming ability, and centrifugal pump must be filled with liquid before rotating.
2. The lobe pump is a positive displacement pump, and the conveying flow can be controlled more accurately, and it can also be easily made into a variable pump. The output flow of the centrifugal pump cannot be controlled, and it decreases with the increase of its own resistance.
3. Lobe pump can be easily made into varieties with higher output pressure, such as 15kg / cm2, which is suitable for long-distance or high-resistance quantitative conveying.
4. The rotation speed of the lobe pump is very low, generally between 120rmp and 600rmp, and the conveyed material is output smoothly without its components being damaged. The speed of the centrifugal pump is very high, and the material being conveyed is subject to strong impact and centrifugal force. Therefore, the centrifugal pump often produces different materials when the mixture is conveyed, which causes the quality of the finished product to decline. This lobe pump is the best choice to solve this problem, so it is especially suitable for conveying mixtures and even materials containing solid particles.
5. Lobe pump optimized lobe profile design, stable pulsation, minimal error, small vibration and high efficiency, which is the biggest difference between it and centrifugal pump.
6. Lobe pump can be used to transport substances with very high viscosity, so it is also called colloidal pump. Centrifugal pumps do not have this feature.