The Difference Between Magnetic Pump vs Centrifugal Pump
The Difference Between Magnetic Pump vs Centrifugal Pump
Magnetic Pumps and centrifugal pumps are both popular type of pumps in the world. They have the same principle but different structure. What is the difference between a Magnetic Pump and standard centrifugal pump? Is Magnetic Pump a type of centrifugal pump? You do not need to do the comparison, save the hassle, we've got you covered!
Firstly, the definition of centrifugal pump is "A pump that transports liquid by centrifugal forcegenerated by the impeller rotation". Magnetic Pump is a type of centrifugal pump, but not a standard centrifugal pump.
Both the magnetic pump and the standard centrifugal pump have the following common features:-
1, They are bothcentrifugal pumps; magnetic pump is also called magnetic centrifugal pump.
2, They both are vane pump (contain impeller).
3, The performance curves are similar.
4, They both have two types of installation, vertical and horizontal, and alsohave self-priming type.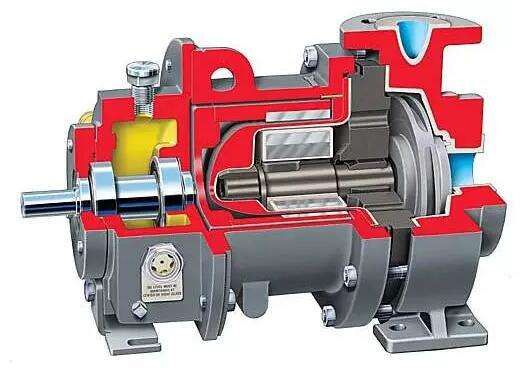 Magnetic pump is mainly composed of pump head, magnetic actuator, motor, base, and other parts.When the motor drives the outer magnetic rotor to rotate the coupling, the magnetic field will penetrate the air gap and the non-magnetic material isolating sleeve, which then drives the inner magnetic rotor connected to the impeller to rotate synchronously, thus achieving non-contact synchronous transmission of power. The seal is designed with a static seal structure where any leakage is prevented. This design is the primary difference from the standard centrifugal pump, hence having different applications.
The main difference betweena magnetic pump and a standard centrifugal pump are as following.
1, Magnetic pump has no shaft seal (or mechanical seal).
2, Standard centrifugal pump does not contain magnetic rotor.
3, The design of magnetic pump prevents leakage whereas the standard centrifugal pump is susceptible to leakage after prolonged operation.
4, Transfer of liquid with solid particle is not possible with magnetic pump.
Hope you will understand the comparison between the two pumps after reading this article. For more information about magnetic pump and centrifugal pump, kindly please follow us.