Vibration and Noise in Vertical Multistage Pumps
Vibration and Noise in Vertical multistage pumps
Vertical multistage pump with complex mechanism and multiple components, and its discharge pressure are very strong. Therefore, the quality of the components and the accuracy of installation require a high level. To ensure the good conditions of pump, we must regularly perform timely maintenance on the parts of the vertical multistage pump, and find out abnormalities and eliminate them in time.
Inspection Process
(1) Check the pump's foundation bolts, the foundation and the pump base contact parts, if there is no looseness, it indicates that the overall installation of the pump is good;
(2) Observe the flow, head and balance pipe pressure of the pump. If they meet the design requirements of the pump, it indicates that the pump rotor and balance mechanism are operating normally;
(3) Determine the bearing parts and inlet and outlet parts of the stainless steel multi-stage centrifugal pump.
(4) Check the flow rate of the pump. If the pump runs smoothly and the current does not fluctuate, it means there is no cavitation in the pump;
(5) The disc pump is flexible and there is no serious jam.
Inspection Result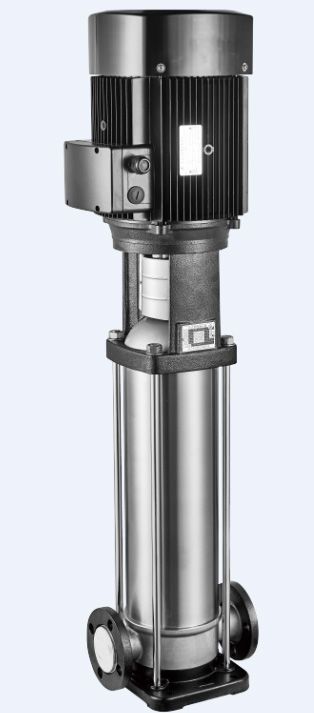 The axial and radial friction between the impeller and the seal ring causes vibration in the pump during operation.
Analysis of Causes
In the process of installing the impeller seal ring of the vertical multistage pump, due to the small clearance between the impeller and the seal ring, only about 0.5mm, the seal ring was locally deformed during the inlaying process, which is more flexible when the pump is turned on. There is no jamming phenomenon. When running at high-speed, the radial run out of the impeller causes local friction between the impeller and the seal ring, which results in pump body vibration.
Treatment Measure
(1) Carefully check and measure the size of each part of the pump to meet high standards and strict requirements;
(2) Repair or replace the seal ring and adjust the clearance between the impeller and the seal ring.
The vertical multistage pump uses low pressure gas (2-8bar) driven by a large area piston to generate high pressure gas / liquid on a small area piston. Can be used for compressed air and other gases, the output air pressure can be adjusted steplessly by driving air pressure. Stainless steel multi-stage centrifugal pumps have single-acting and double-acting pumps. The double-acting pump piston compresses the gas in both strokes. When the driving gas acts on the gas piston, the working piston is driven with the gas to obtain a larger output flow.