When we will choose a pneumatic diaphragm pump?
Diaphragm pump is a special form of positive displacement pump. It relies on the back and forth agitation of a diaphragm plate to change the volume of the chamber to inhale and expel fluid.
pneumatic diaphragm pumps mainly by the transmission part and the diaphragm cylinder head of two parts. The driving part is the driving mechanism that drives the diaphragm piece to and fro. Its driving forms include mechanical driving, hydraulic driving and pneumatic driving, among which hydraulic driving is widely used. The working part of diaphragm pump is mainly composed of crank connecting rod mechanism, plunger, hydraulic cylinder, diaphragm, pump body, suction valve and discharge valve, among which, by crankshaft connecting rod, plunger and hydraulic cylinder composed of drive mechanism and reciprocating piston pump is very similar.
Diaphragm pump's diaphragm, valve ball, valve seat and O - ring called "elastic material". Generally speaking, there are three types of elastic materials: rubber compounds, thermoplastics, and Teflon (commonly known as Teflon). Rubber compounds are usually composed of rubber and artificial additives designed to improve the tolerance of a liquid. Thermoplastic compounds are made entirely of synthetic compounds to improve the tensile strength of the material while maintaining good wear resistance, suitable for the transport of acids and lye. Teflon is the most chemically resistant synthetic compound known and suitable for most applications. Because Teflon is inelastic, Teflon film must be equipped with a supporting membrane. The support membrane can provide additional support to extend its life (mean time between repairs).
Diaphragm pump is divided into pneumatic diaphragm pump and electric diaphragm pump, diaphragm pump is also widely used, in harsh working conditions, pump efficiency and life are seriously affected. Diaphragm pumps have a variety of elastic types, compared with other pumps more suitable for harsh conditions. What should be considered when choosing pumps that pump harsh materials, or pumps that operate under harsh conditions? What performance and maintenance impacts are likely to be encountered and which pump technology is better suited to these requirements?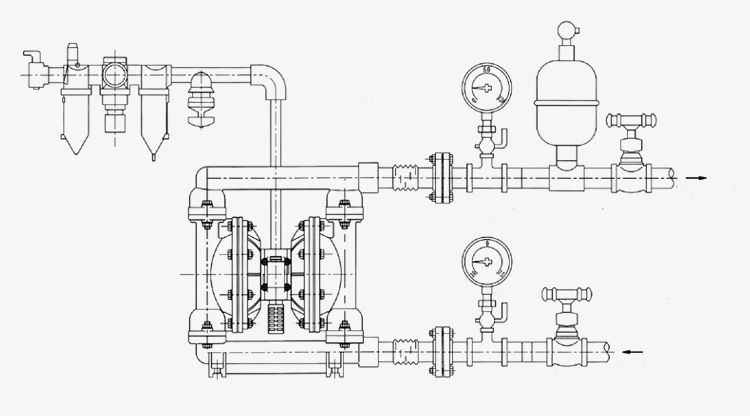 The performance of the pump in conveying harsh materials or harsh environment proves that pneumatic diaphragm pump (AODD) technology is a good pump technology. The diaphragm pump is defined as a reciprocating positive displacement pump because it operates to drain fluid from one of the two pump Chambers in a single stroke. The diaphragm pump consists of two membranes, two inlet and two outlet valves, and the pump is driven by compressed air from the air distribution system. These design features allow the pump to run idle without damage, with a self-priming height of up to 6.4m water column, a positive head if necessary, to operate fully immersed in liquid, and to transport solids of up to 34.9mm in size. As a result, these characteristics make diaphragm pumps more popular than most other types of pumps in harsh operating conditions, including internal and external gear pumps, CAM pumps, screw pumps and piston pumps. When pumping harsh materials, first of all, you need to make sure you choose the right component materials and elastic materials. For example, when pumping toxic pesticides, the diaphragm pump components and elastomer material selected must be compatible with that material. Most diaphragm pumps use a variety of elastic types to meet service requirements. Chemical compatibility, temperature limits, flexible life, wear resistance, self-priming height, hygiene standards and cost are taken into account when determining elastic materials.
Another factor to consider is the wear resistance of diaphragm pump components. When pump pumping high abrasion liquid, if the internal pump can not achieve a certain wear resistance, will cause damage to the internal pump. Some of the powder and mud contains sand, metal fragments, abrasion is very strong, through the wet parts of the pump, will scratch the inner wall. Components vulnerable to damage in this case are ball, isolation ring and resilient materials such as membranes, ball and seat and other wet parts in contact with the pumping material.
Among the factors to be considered is whether the pumped material needs to be bolted or clamped. Clamps are generally used, but bolt fasteners are more hermetically sealed and therefore contain the pumped material better. The temperature and pressure of the pumping material are also factors to be considered. The standard diaphragm pump is 1:1, that is, if the pump produces 1kg of pressure, it needs 1kg of air pressure. But in some applications the pressure ratio is 3 to 1 to meet the application requirements.
First, correct selection is the keypoint
The decrease in pump efficiency and performance can result in reduced flow, insufficient pressure, or incompatibility with materials, resulting in a series of high costs associated with materials. The pump is shut down, that is, the pump can not run, the material can not be transported, so will cause huge economic losses. In addition to costly downtime and maintenance, the selection of inappropriate components can increase maintenance costs. For example, the pump will wear out in advance if the elastic material of a pump does not meet the requirements for wear resistance. This situation will not only affect the pump performance and output, but also lead to early replacement of elastic material.
Factory operators often want to install a pump after the pump does not need to constantly overhaul the pump, just to the scheduled maintenance plan time point, a one-time check of the pump, to determine whether it can also meet the operating parameters. This means that plant operators expect pumps to remain highly efficient under a wide range of harsh conditions.
Second, external factors
In harsh working conditions, there are some problems inside the pump, while the pump is affected by external factors. Temperature is an important factor. Many types of diaphragm pumps can usually operate at extreme temperatures. Diaphragm pumps are made of metal and plastic. Plastic pumps work well in temperature-controlled environments, while metal pumps are usually the choice between extremely hot or extremely cold environments. Another factor is the nature of the material itself. Pumping water at temperatures below freezing usually requires heating or insulation to prevent freezing; in the hot sun, or in the dust environment, the pump needs to be built around the pump to protect. The properties of some materials will change when the temperature changes. For example, the resin with good fluidity at 27℃ will thicken when the temperature drops to -6℃, making it difficult to pump. In this case, it is also necessary to heat the pump or add insulation material. In addition, it is necessary to consider the elastic materials used in the use of pumps in extreme conditions. Teflon, for example, is not suitable for low temperatures, but EPDM (synthetic rubber) membranes are. Teflon is also not suitable for extremely high temperatures (above 104 ° c), but Viton is.
The work environment is another factor to consider. If the factory environment is filled with steam and the smell of chemicals can be detected in the air, it is necessary to ensure that the non-wet parts and pump body are not corroded by the chemicals contained in the air.