What is an inline pump?
Inline pump is a type of centrifugal pump with a vertically oriented shaft. The inlet and outlet in the pump casing with same size at the same level, that's in a line. Therefore, Inline pump can installed in the pipeline anywhere, that's why it's named inline pump (also named booster pump).
Inline pump with similar performance as end suction pump, but compared to a horizontal end suction pump, the pump great savings the floor space, and more convenient to install (do not need to change the piping direction like install a horizontal end suction pump), because of the unique structure.
There without a universal water pump at world, different location with different types pump, same as inline pump. For different operate conditions and request, how to select a suitable pump are particularly important. Inline pump also with various types for different use.
How to select an inline pump?
Yaness as a pump industry leader and professional manufacturer at China, manufacture series type's inline water pump as below.
Due to the variety of inline pumps, we classify them according to different classification standard.
Pump type – According to different installation, the inline pump with vertical type and horizontal type.
For vertical inline pump (ISG), the motor with extension shaft directly mounted impeller, to balance the radial and off-load effective when working, thereby ensure pump stable operation, and low noise. And easy to disassembly, all rotor components can extract by remove the coupling nut.
According to the request flow and head, pumps can install in series or in parallel to adjust the flow and head.
And for the horizontal inline pump (ISW), the performances are same with vertical line pump, but horizontal structure (level suction connection, and upward discharge connection). The following types pump also with horizontal type, no longer elaborate.
In addition, Yaness also product vertical inline pump without pump base (SG), for dangling install at pipeline, like a valve. And detachable inline pump with standard shaft motor, for easy to replace motor.
Drive mode– Normal inline pump adopt normal motor. For some specials operate condition, we choose low speed motor, Ex motor and magnetic drive.
ISGD low speed inline pump, the structure are same as ISG inline pump, but with low speed motor (Four holes or six holes). For four holes, the flow is 1/2 of standard flow rate, and the head is 1/4. For six holes, the flow is 1/3 of standard flow rate, and the head is 1/9.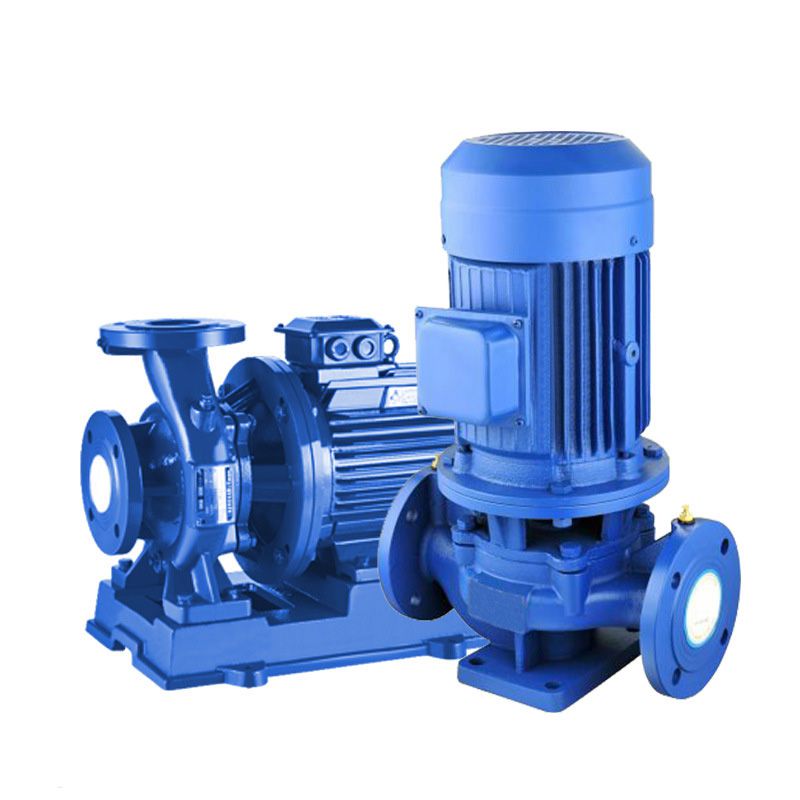 With low speed, the pump is more stable, longevity, and low noise during movement rather than ISG inline pump.
ISGB explosion- proof inline pump, adopt Ex motor, mainly deal with flammable and combustible lquid, or fire-fighting operation.
CQB magnetic inline pump combine inline pump and magnetic chemical pump with both advantages.
Liquid type - The material of ISG inline pump is cast iron, not suitable for corrosive liquid. According to the liquid corrosives, we should select different material for pump.
For low corrosive liquid, IHG chemical inline pump with stainless steel 201, 304, 316 are good choosing. For high corrosive liquid, fluoroplastic inline pump are more suitable, the pump with cast iron casing, inside fluroplastic flowing through parts.
As for hot water, we should choose IRG hot water inline pump, it's can transfer liquid up to 240℃. Normal ISG pumps are suitable for liquid less than 80℃.
For oil, YG oil inline pump are design to transfer oil, with bronze impeller and Ex motor, suitable for diesel, gas oil, kerosene etc.
About sea water, bronze marine inline pumps are widely used at ships. The pump casing and impeller are bronze and mechanical seal are design for sea water.
For sewage water, GW sewage inline pump adopt a mass flow impeller, and wear-resisting seal. The pump can convey sewage water with solid particle and fiber. Also, Yaness product others type sewage pump.
No. of stages – The all above are single stage pumps. The difference of single stage pumps with multistage pump is multistage pump with higher head. Based on the different application, there have many types multistage pump, like vertical stainless steel multistage inline pump for booster, cast iron multistage inline pump for fire-fight, etc. We not go to go through those there.
Summary, there have many type inline pumps with different application. For easy study; we list those applications and advantages as the follows.
Applications
● Transfer clean water
● Convey corrosive liquid
● Deal with flammable and combustible liquid
● Pollution discharge and drain sewage water
● Water supply for high building
● Pipeline booster
Advantages
● Save floor space
● Easy to dissemble and maintain
● Various installations
● Easy to installation
● Stable operation
● Low noise
AS a novel pump, inline pumps widely use at a different area around the globe. Gradually become the most popular pump. Yaness with 20 years of experience in manufacturing, and marketing inline pump, and has been endorsed unanimously by both domestic and international markets.
For more information and need a quote? Do not hesitate to contact us.